Get to know Covid-19, a disease that is spreading and causing risks around the world.

COVID-19 (COVID-19, short for Coronavirus disease 2019), initially given the temporary name 2019-nCoV and the current official name SARS-CoV-2, is a respiratory infection caused by a virus. Corona can cause fever, cough and possibly pneumonia.

Covid-19 first reported cases in December w. Prof. 2019 in Wuhan city. capital city of Hubei Province Central China, which is a big city, is crowded. Therefore, a large outbreak can occur quickly. The care was emergency. More and more people were seriously ill and died. until China had to shut down the city But due to international travel, the infection began to spread rapidly in many countries, including Thailand.

The first patient treated in Thailand on January 13, 2020 is a Chinese man who contracted the outbreak in China. and traveled to Thailand. After that, there were many patients who came from other countries. As for the first infected patient in Thailand It was reported on January 31, 2020.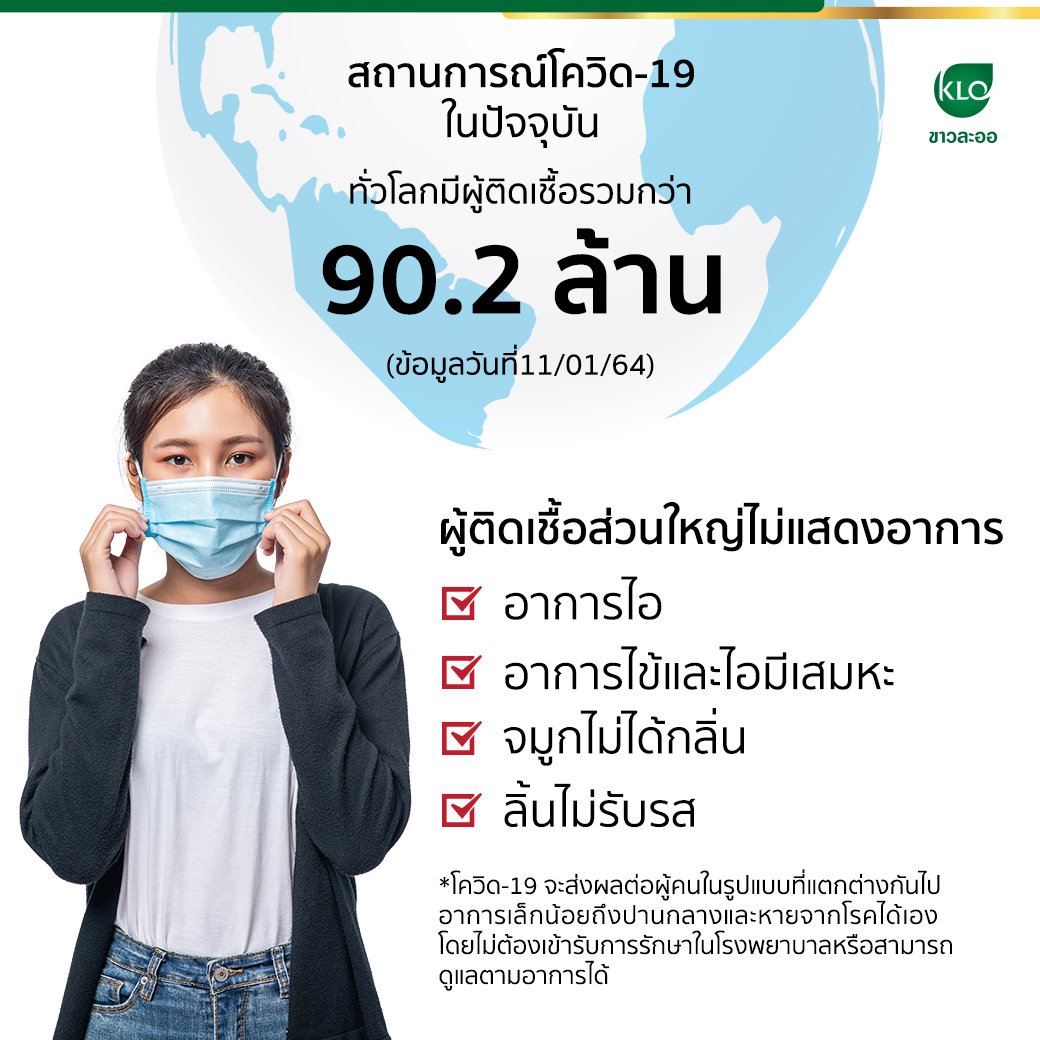 The current situation of COVID-19

Currently, COVID-19 has spread all over the world and the number of infected people is increasing. Worldwide, there are more than 88.8 million infected people (data on 09/01/2564), although Thailand can control the epidemic situation for a period of time. But due to the rapid development of virus strains which is severe by being able to infect more easily As a result, the outbreak continued to increase in a wide area within a short period of time. This is because the mutated virus can incubate in the body asymptomatically in over 90% of patients and is highly infectious. until the outbreak of COVID-19 new wave in Thailand

Most infected people show no symptoms. some have a cough Some people have a fever and cough with mucus. The nose doesn't smell, the tongue doesn't taste. Covid-19 will affect people in different ways. Most infected people have mild to moderate symptoms. and recover from the disease by itself without being hospitalized or able to take care of the symptoms There will be only some, especially the elderly. Often have joint and rapid breathing, shortness of breath due to pneumonia. Very few cases have a sore throat. runny nose or diarrhea When severely ill, rapid breathing, shortness of breath can lead to respiratory failure and shock. It mostly happens in people with low immune systems. have a pre-existing disease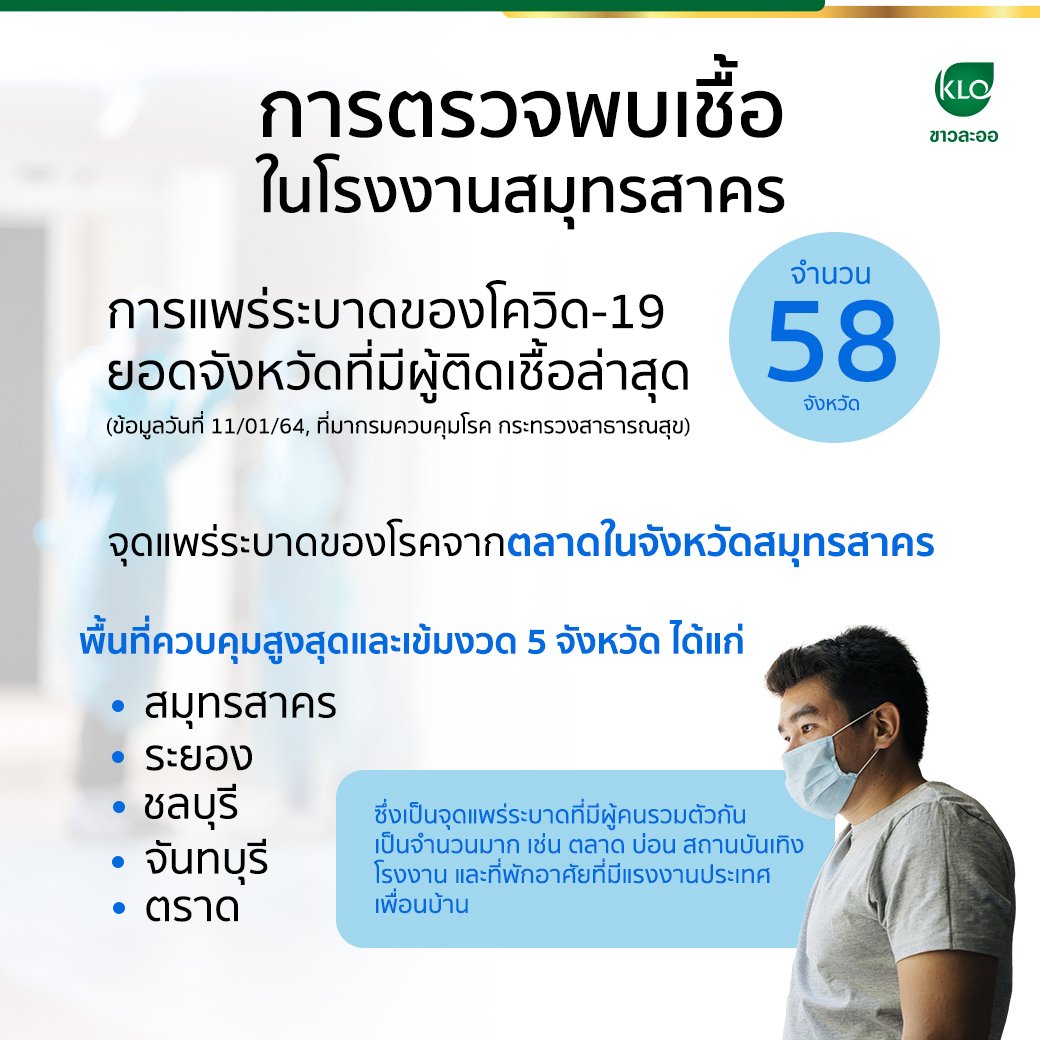 Infection detection in Samut Sakhon factory

The new wave of Covid-19 epidemic situation has continuously increased the number of infected people. Recently, there are 58 provinces that have been infected with the virus (data on 09/01/2564, source from the Department of Disease Control. Ministry of Health) by the epidemic point will spread from Market in Samut Sakhon Province Originally, it had the highest control area or only one red province, Samut Sakhon, but recently added to 5 provinces, where the epidemic point will be a place where a large number of people gather, such as markets, casinos, entertainment venues, factories and shelters with workers. neighboring countries including a factory that manufactures and distributes canned seafood of a large company located in Samut Sakhon Province was diagnosed with COVID-19 from proactive screening within the factory Therefore, measures have been taken And the most urgent measures to prevent the spread of the epidemic include sending all employees who are at risk of coming into contact with the infected person. Get tested for COVID-19 immediately, and employees will be quarantined for 14 days for symptoms. Ready to carry out cleaning and disinfection immediately. in such areas according to the standards of the Department of Disease Control

For now, Samut Sakhon's disease management approach is the source of the seafood industry. There are various groups of workers working in factories, both registered and unregistered. The Ministry of Public Health has set targets for proactive screening of each location as follows:
Factory focuses on factories with sizes ranging from 500 to 5,000 people or more, totaling up to 100 factories in 3 districts of Samut Sakhon Province, namely Mueang District, Krathum Baen and Ban Phaeo. There are 11,467 factories of all sizes, of which 200-500 people have approximately 11,302. factory
market
residence of foreign workers

Statement on the use of Andrographis paniculata from the Ministry of Public Health

From the epidemic situation of Covid-19 since the beginning of 2020 in Thailand and many countries, herbs have been used to treat symptoms of Covid-19. In Thailand, there has been an herb paniculata that has properties to help reduce fever, cure cold, cough, sore throat and found that andrographolide. (Andrographolide) is an important substance. can destroy the virus directly and prevent the virus from increasing the number of cells boost immunity can reduce inflammation In addition, paniculata has been used for the coronavirus disease SARS (SARS) in the past 2002-2003.

Click to contact us for a sample to present to our purchasing department or to request a quote.

Introductory clip on how to use Fah Talai Thieves : https://www.facebook.com/informationcovid19/videos/243392180194318

by Dr. Pramote Sathirat, Deputy Director-General of the Department of Thai Traditional and Alternative Medicine, said that Andrographis paniculata has a disinfectant effect. and inhibit the proliferation of the virus But it does not have the effect of protecting cells from infection. Therefore, it is not recommended to eat for prophylaxis. without symptoms because it has no protective effect But to eat immediately when symptoms start like flu symptoms such as fever, cough, sore throat, fatigue, muscle aches. This may be caused by infection with the influenza-causing virus. or other respiratory disease-causing viruses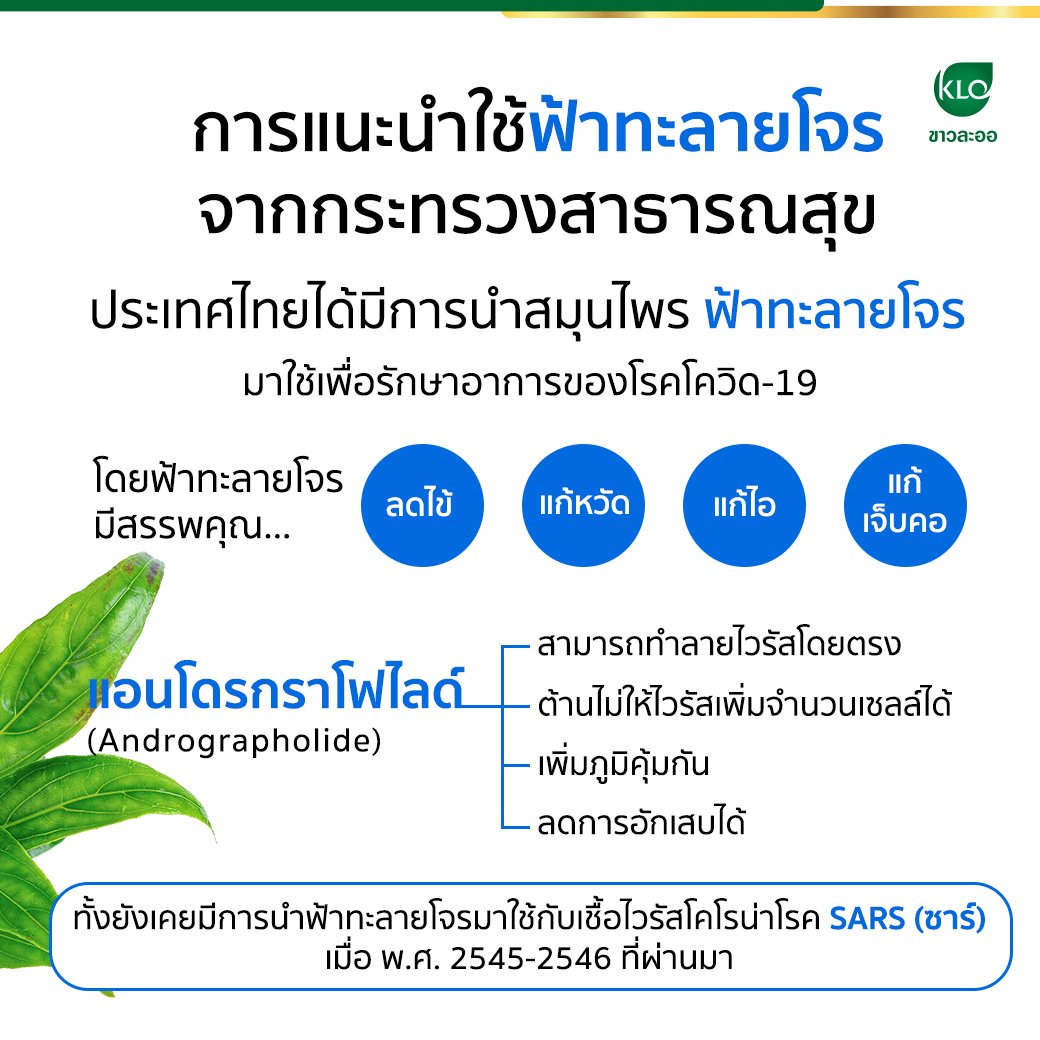 While many countries have invented and developed To create a vaccine against the COVID-19 coronavirus, Thailand has researched the use of Andrographis paniculata in patients with COVID-19. continually In December 2020, the Ministry of Public Health revealed the results of the research results of Andrographis paniculata in patients with the COVID-19 virus. where the symptoms were not severe, all of them got better Prepare to continue research on patients at Chiang Rai Prachanukroh Hospital which is the first province to see a new wave of infected people from people who travel from Myanmar

Dr. Amporn Benjaphonphithak Director-General of the Department of Thai Traditional and Alternative Medicine said that the Department of Thai Traditional and Alternative Medicine has cooperated with the Faculty of Medicine Siriraj Hospital Chulabhorn Research Institute Department of Medical Sciences and the Government Pharmaceutical Organization (GPO) conducted a pilot study on the effects of high-dose Fah-Lai Joan extract on COVID-19 patients. After in vitro research Found effective in killing and also inhibiting the division of the virus. but has no effect in protecting cells from infection with the coviral-19 virus. Therefore, it is not recommended to eat for prophylaxis without symptoms. Now expanding the results of research in people. in collaboration with Samut Prakan Hospital which takes care of patients from outside the country in a facility provided by the state (State Quarantine)

The results of a preliminary study in patients taking andrographis paniculata extract at a dose of 180 mg per day. All patients showed improvement from the third day of receiving the extract. If symptoms are broken down, it is found that cough, sore throat, sputum, runny nose, muscle pain and headache have improved. Patients had no adverse effects on liver and kidney function. in normal The results section Pro-inflammatory cytokines and biomolecules In the process of analyzing the data at the Faculty of Medicine Siriraj Hospital

At this time, the Department of Thai Traditional Medicine has asked for permission from the Board. Change the hospital where human research studies are conducted into Samut Prakan Hospital and Bang Lamung Hospital This is because it is the main hospital that accepts infected people if they are found to be sick during state quarantine after returning from a foreign country. which is ready since June 22 and can take immediate action if an infected person meets the criteria for treatment



How to eat Andrographis paniculata

At present, there are 2 types of Andrographis paniculata, namely Fa-Lai-Jon Powder and Fa-Lay-Jon-Cutting Powder. By eating powdered Andrographis paniculata can be taken 4 capsules 4 times a day after meals and before bedtime. As for the Andrographis paniculata extract, 1-2 capsules each time to receive about 20 mg of andrographolide/time, 3 times a day after meals, taking both types of drugs in recommended doses. will provide about 60 mg of nadrorafold/day It is recommended to have paniculata as a home remedy. May be used in combination with paracetamol But if symptoms do not improve within 2 days, see a doctor immediately.

However, it was noted that the COVID-19 outbreak The first peel in Thailand was able to control the outbreak quickly. After the lockdown Together with the news that eating Andrographis paniculata helps prevent COVID-19 causing the people to be alert and buy a lot of paniculata paniculata to eat It may be that the infected person is asymptomatic or has early symptoms. After eating the thieves paniculata extracted This reduces the risk of having severe symptoms. and reduce the spread of infection in the community as well? It's also an interesting issue.