Khao La-or Pharmacy was founded in 1929 by Dr. Longkhao La-or, 1897, 1969, a Thai traditional medicine doctor and pharmacist. Physicians and specialists in traditional herbal apothecary, products of the famous Khao Laor Pharmacy include anthelmintic drugs Khao La Or and medicine to heal the white tongue The white anthelmintic drug It could be said that it was the first herbal form of anthelmintic drug that was effective able to remove all worms while the current anthelmintic drug was not able to remove all worms. White anthelmintic drugs are accepted and very famous. As can be seen from the record in the first book of life in the palace due to Nilrat and it is recognized that it is a highly effective anthelmintic drug that can actually drive parasites.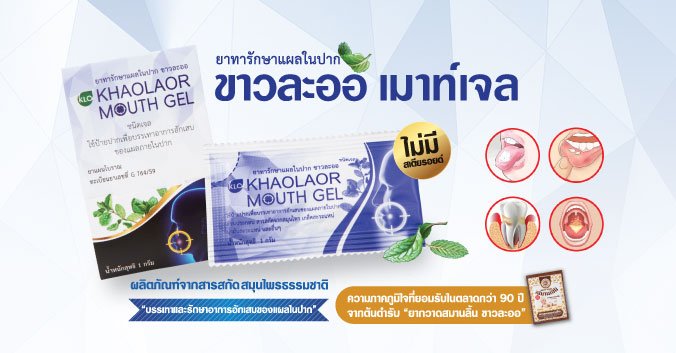 For the white tongue astringent drug is another drug that is recognized for its effectiveness and is widely popular. Since the beginning as well as a drug used to take care of oral hygiene of Thai children, coming to a year from the treatment of white follicles from birth that maintaining oral hygiene in children will not prevent children. Suffering which will make crying yoye all the time is a concern of parents. And the child's mouth hurts will make the child unable to suckle or not suckle even when he is hungry, resulting in the child's weight loss growth and consequently. Against the body's immune system, it is easy to get sick and white follicles. When a child swallows it, it will cause sickness and fever, which will create a burden of parenting for parents. Therefore, proper and effective sweeping of the medication will prevent the child's sore mouth from birth. It is difficult to draw to heal the white tongue. This is also popular with adults with mouth ulcers such as From this white-la-or tongue healer, it has developed a form that is suitable for all times and technologies. From the beginning, the formula was in the form of pills wrapped in aluminum sheets and packed in envelopes with grid lines on the sheet. Broken, divided, used as appropriate by bringing the medicine to rain and cap and add a little warm water. When the drug is smeared or swab in the wounded mouth area, this medicine has gained wide popularity, but the form of use may still be That inconvenient when there is a technology to press white pills, Laor Pharmacy. Therefore, the form was modified to be a type of tablets sealed with aluminum foil. Products are cleaner, more moisture-proof, convenient for distribution to distant provinces across the country.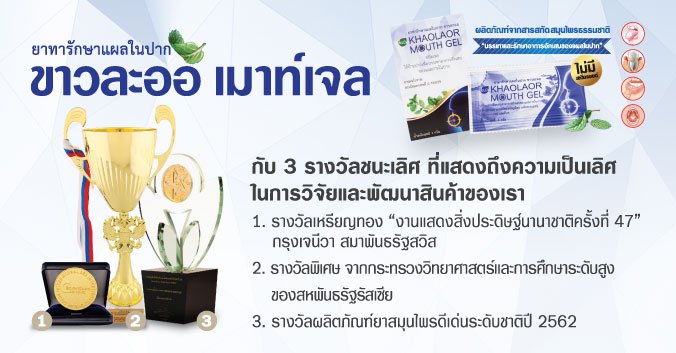 The transport used to be delivered by trains and cars of the Shipping and Package Organization, which is now closed. Around 1969, the second generation of executives, Mr. Boonruen Pongboriboon, daughter of Mor Long and Mr. Waraphong Pongboriboon, son-in-law, developed it into a powder form. Because although the tablet type has been developed, but users still have to grind it before use, it has developed into a powder type and packed the drug powder in aluminum sachets with an automatic packing machine that prints the production number on the envelope while packing. It can be regarded as the development of the pattern when, while traveling to expand the provincial market, rural poverty was seen due to lack of additional occupation outside the farming season and other agriculture wasted time. The benefits of both of them agreed to teach a simple career. It takes less time to practice and can be done to immediately supplement the income of the villagers in the community during the trip. Career Promotion Club by gathering people who volunteer to teach simple occupations To the people who come to learn without collecting the initial tuition fee, teaching at the Freedmen's League of Thailand The area opposite the Mater Dei School was later renamed to the Uncle Khao Kao Occupational Club and later registered as the Lung Khao Kao Occupational Foundation and Mr. Waraphong. Pong Boriboon is known as Uncle Khao From Wisdom to Research Around 2010, Phennapha Sapcharoen, Director of the Institute of Thai Traditional Medicine at that time and the Thai Traditional Medicine Research Support Team Coordinated herbal research with the Secretary-General of the National Research Council Mr. Jiraphan Attchinda and with the Director of Budget Bureau Mr. Poonsup Piya-anan to request support for herbal research which was very new at that time by selecting traditional medicines that are accepted in the market for research, one of which is White La-or Tongue Astringent Pills and the research team is the Faculty of Pharmacy. Srinakharinwirot University The results showed that it has a good anti-inflammatory effect, helps wounds heal quickly and has high safety. There is also a synergistic effect of herbs in the drug formulations that work together to produce good therapeutic results even with small doses of drugs. This brings both the joy that this recipe has given its unimaginable benefits and the surprise at the same time how the makers of the recipe realized that it had such a good and safe effect. and specially formulated for children so that even in small children it can be used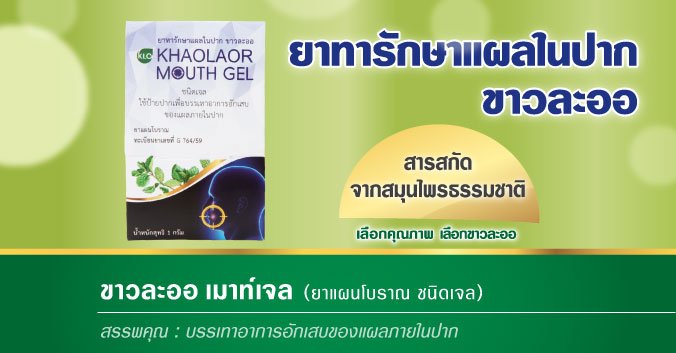 Therefore, Khao La-Or Pharmacy has brought this research to develop into a gel type to treat mouth ulcers and registered the formula number.....by researching the gel texture that is suitable and safe for young children through Project researcher is Asst. Phon Aimorn Chaiprateep, Lecturer, College of Thai Traditional Medicine, Rajamangala University of Technology Thanyaburi, which is not only a gel that is safe for young children but also safe and suitable for the general public with Khaolaor products. This Mouth Gel was awarded the National Outstanding Herbal Product (PMHA Award) in March 2019 and was displayed at the International Invention Fair in Geneva, Swiss Federation. (International Exhibition of Invention) received a gold medal on April 12, 2019 and a Special Prize on Stage from the span class Ministry of Science and Higher Education of the Russian Federation as well. The inspiration and goals of Khao Laor Pharmacy are at present. The design of the product should change with the times. From the black medicinal powder of the White Tongue Astringent Pill. Although it works very well, it may not be suitable for use outside or even at home. Users may feel soiled, so the gel form is a good fit. It is a modern drug that contains steroid drugs as the main component, which is a drug that gives good therapeutic effects, but the use of steroid drugs is limited. For example, it should not be used in children or pregnant women, it should not be used on fungal wounds, and its frequent use can slow down the response to the drug. Therefore, the development of a gel type astringent tablets can be used in young children. For use in adults, it can be used as often as needed without staining, reducing inflammation of the wound and helping it heal faster, providing both physical and efficacy as well as user safety. It also represents Thailand's health self-reliance and can be counted as the 4th development. It is a development with research and innovation as a self-reliance in both the main drug and the gel component by Thai researchers who have been recognized. on a global scale It is a small but very effective use because the drug is synergistic for the purpose of the era according to the wishes of the government's development as well. At present, Khao La-Or Pharmacy has been established for a year, has been producing with modern processes, has received GMP, ISO 9001 standards, and has been recognized for quality and ethics from research agencies and government agencies, such as the Quality Award. National Outstanding Herbal Product Award National Outstanding Herbal Entrepreneur Award Geneva International Invention Medal Award, etc., and sincerely hope that this product through research and development is very good. Including other quality Thai products will be more accepted by Thai consumers, respectively, for national pride and upgrading the ability of entrepreneurship and research at all levels.